Shishkaberry Feminized Seeds Information
Ah, Shishkaberry!
A name that rolls off the tongue as sweetly as the experience it promises.
This is your jam if you're after something that brings creative relaxation to your evenings.
But hang tight because this isn't just any cannabis strain - it's an experience waiting to unfold.
Shishkaberry Strain Origin
Dive into the lineage of Shishkaberry, and you'll uncover a rich history of flavor and power.
A striking mix of DJ Short Blueberry and Afghani, this strain leans 80% indica and 20% sativa.
It's an icon in its own right, offering a blend of fruity zest and earthy undertones that you won't soon forget.
Shishkaberry Weed Effects
Inhale, exhale, and there you are, the Shishkaberry experience.
If 'relaxed creativity' was a kingdom, Shishkaberry would sit on its throne.
It's a harmonious mix that soothes your nerves while stimulating your imagination.
Plus, it's an excellent choice for those needing pain relief or a calming touch.
THC and CBD
Listen up, aficionados!
Shishkaberry offers THC levels that range from a decent 16% to a whopping 26%.
And don't overlook the CBD; it hovers just below 0.8%.
The high THC levels bring out a robust profile of psychoactive effects - ideal for anxiety relief or a creative surge.
Aroma and Flavor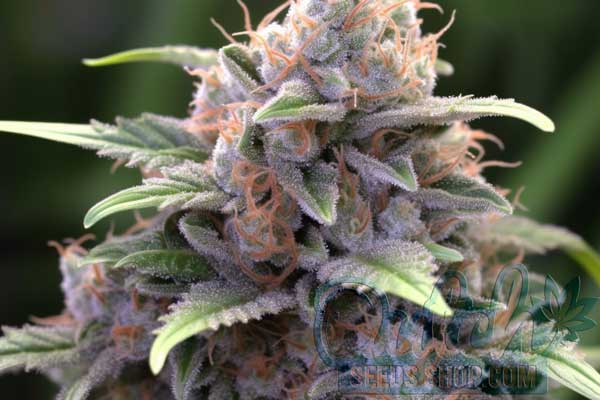 Picture this: a rich soil teeming with life and berries ripening under a warm sun.
That's the aroma and flavor profile you can expect - earthy, berry, grape, and a hint of sweetness.
The pungent earthy scent and delicious aftertaste will make you a Shishkaberry fan for life.
Growing Shishkaberry Plants
So, you're intrigued by the allure of Shishkaberry and itching to grow your own?
Well, you're in luck because this strain is as rewarding to grow as it is to consume.
Preferred Climate
Imagine a Mediterranean landscape - warm, inviting, and plenty of sunshine.
Shishkaberry loves this sort of climate.
Though a dry climate is preferable, it's not a deal-breaker.
Keep those temperatures moderate, and your plants will thank you.
Indoor and Outdoor Yield
Whether you are an indoor enthusiast or an outdoor pioneer, Shishkaberry has got you covered.
Indoor yields can range from 1.6 to 2 oz/ft² while outdoor plants can deliver from 53 to 70 oz per plant.
Want the secret sauce for this bounty? Simple: organic pest control and good hygiene.
Flowering Time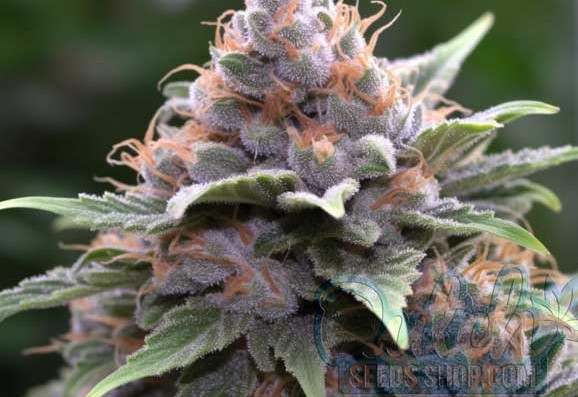 Tired of the endless wait for flowering?
Shishkaberry's got you covered with a quick 50 to 55-day flowering period.
That's right, in just 7 to 8 weeks from the start of flowering, you could be gazing upon luscious, ripe buds ready for harvest.
Let's be clear, though.
Factors like light cycles and nutrients can affect flowering time.
Whether you're a pro grower aiming to maximize yield or a newcomer excited about your first harvest, tailoring your grow techniques can lead to results that exceed even your highest expectations.
Buy Cannabis Seeds for Sale Online
Ready to embark on your Shishkaberry journey?
Look no further than Dutch Seeds Shop.
With unmatched quality and germination rates, your dreams of a bountiful yield are just a click away.
Free Shipping Worldwide - Including the USA
When you shop at Dutch Seeds Shop, guess what?
You're getting free shipping worldwide, even in the USA.
And the joy doesn't end there.
We also offer a fast delivery option within 2 to 5 days, plus free seeds on orders over $100.
Similar Marijuana Seeds
Dive right in, cannabis enthusiasts!
Let's stack Shishkaberry against some of the finest seeds in the biz.
From yields to effects, let's explore how they measure up.
Devils Lettuce: Compared to Shishkaberry's easy-to-grow nature and heavy yields, Devils Lettuce also offers an uncomplicated grow but with slightly lower yields. In terms of effects, both strains boast impressive relaxing properties, though Devils Lettuce offers more euphoric sensations.
Purple Haze: Known for its psychedelic effects, Purple Haze leans more toward sativa than Shishkaberry's indica dominance. While Shishkaberry wraps you in a blanket of calm, Purple Haze energizes your creativity.
Wedding Cake: This one is a heavyweight when it comes to THC levels, sometimes surpassing Shishkaberry. In terms of flavor, both strains share a complex berry and earthy palette, but Wedding Cake adds a dollop of vanilla sweetness.
Gorilla Glue: Similar to Shishkaberry, Gorilla Glue is rich in THC but leans more toward a balanced indica-sativa hybrid. The growing difficulty for both is on the easy side, making them excellent options for newbie growers.
Frosty Blue OG: If you're chasing that berry flavor, Frosty Blue OG is a worthy opponent to Shishkaberry. Both strains love a warm climate, but Frosty Blue OG takes a bit longer to flower, offering a tad more patience for a similar reward.
Whether you're a new grower or a seasoned pro, these strains each offer unique characteristics.
So why limit yourself? Maybe it's time to diversify your green portfolio!
FAQ
Is Shishkaberry strong?
Yes, with THC levels ranging from 16% to 26%, it's a potent strain.
What are the effects of Shishkaberry?
Expect a blend of relaxation, creativity, and analgesic properties.
What is Shishkaberry?
It's an 80% indica, 20% sativa strain, renowned for its unique blend of berry and earthy flavors, as well as its medicinal benefits.