White Russian Feminized Seeds Information
The White Russian seeds beckon to both newcomers and veteran cannabis enthusiasts alike, offering a balance of invigorating effects and robust growth characteristics.
With genetics that resonate with quality and potency, these seeds have quickly become favorites at the Dutch Seeds Shop.
A blend of exquisiteness and simplicity awaits those who dare to plant these remarkable seeds, promising a rewarding and intensely satisfying harvest.
White Russian Strain Origin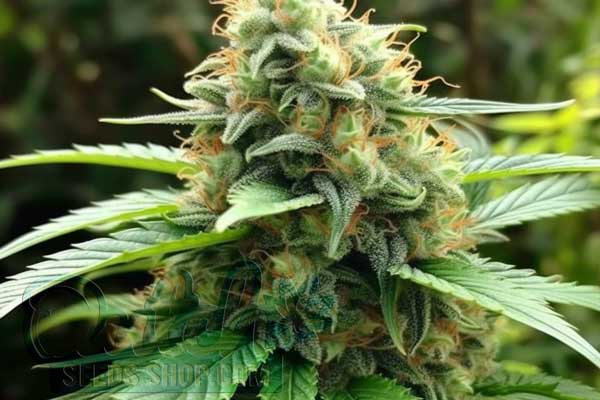 White Russian is a stable cross of two renowned strains White Widow and AK-47, bred by Serious Seeds.
This hybrid, with a balanced 50%/50% composition, boasts the best attributes of both parents, creating a strain that's robust, resilient, and rich in flavor.
The lineage of White Russian paints a picture of potency and elegance, presenting a medium-height plant that is perfect for growers who appreciate an easy to grow strain with deep cultural roots in the cannabis community.
It has won first prize High Times Cannabis Cup in 1996 and the second prize "Extracts," Highlife Cup 2013 in Amsterdam.
White Russian Weed Effects
White Russian is a strain known for its robust blend of effects, offering a well-balanced experience between mental stimulation and bodily relaxation.
Upon inhaling the earthy and citrus-infused smoke, the first wave of effects comes from the 50% sativa content, which launches the user into a happy and invigorating cerebral state.
The creative and euphoric energy boost makes it an optimal choice for daytime or afternoon use.
Artists, writers, or anyone seeking a spark of creativity will find a lively companion in White Russian.
Whether it's a weekend hobby or a professional project, this strain can help open up new vistas of imagination.
Then, the 50% indica side starts to show its power. While not overwhelming, it adds a gentle analgesic effect.
That can be the perfect answer for chronic pain, inflammation, and headaches.
It's like a calming wave that complements the energetic mental effect, offering relaxation without heavy sedation.
Furthermore, White Russian has been found helpful for individuals experiencing ADHD and depression.
Its balanced nature allows it to treat various conditions without overstimulating or overly sedating its users.
It's a tailored effect that many find hard to match in other strains.
THC and CBD
White Russian's THC levels vary from 19% to 25%, offering a range that suits various needs and preferences.
With CBD levels below 0.7%, it leans towards delivering more stimulating and psychoactive effects.
The combination of THC and CBD in White Russian makes it a potent strain and a viable option for medicinal use, with possible benefits in managing several physical and psychological ailments.
Aroma and Flavor
The terpene profile of White Russian is nothing short of intoxicating and fascinating.
Earthy, spicy, and laced with citrus undertones, this strain offers a bouquet that delights the senses.
Terpenes like pinene, myrcene, and caryophyllene are commonly found, adding complexity to its unique aroma.
As you experience White Russian plants smell, the first note is refreshing citrus, followed by an earthy richness that resonates with the forest floor.
The spicy kick at the end completes the sensory journey, leaving a lingering warmth that's both comforting and refreshing.
These flavors mirror the strain's dual nature, reflecting its heritage.
Such a rich and flavorful profile makes feminized White Russian a favorite among weed connoisseurs seeking a layered and memorable experience.
Growing White Russian Plants
Embark on a journey with White Russian marijuana, a grower's delight, whether you're a beginner or a seasoned pro.
Its forgiving nature and strong growth characteristics make it a valuable addition to any garden.
Preferred Climate
Cultivating White Russian feminized cannabis seeds requires attention to its preferred climate, which is mild and stable.
This resilient medicinal plant thrives in conditions that replicate a gentle and temperate environment.
Ideal temperature ranges between 65°F to 75°F (18°C to 24°C), with relative humidity levels staying between 40% to 50%.
Growers must carefully monitor these aspects to ensure optimal growth.
White Russian's tolerance to changing conditions is a boon for novice growers, but the plant must not be exposed to extreme temperatures or humidity fluctuations.
Growing White Russian seeds outdoors in a region that naturally aligns with these climate preferences is beneficial, but the strain can also be successfully grown indoors with proper climate control.
The right combination of light, temperature, and humidity can make White Russian a user-friendly and reliable plant, producing robust growth and flowering period and dense, resinous resinous flower tops.
Indoor and Outdoor Yield
Indoor yields for White Russian range from 1.1 to 1.5 oz/ft², while outdoor cultivation offers an impressive 15 to 17 oz per plant.
The yield reflects this strain's robust and resilient nature, which can be optimized with proper care and attention.
Whether you're growing in a controlled indoor environment or embracing the natural outdoor ambiance, White Russian promises a rewarding harvest.
The plants yield very beautiful dense buds, coated with an abundance of resin.
Flowering Time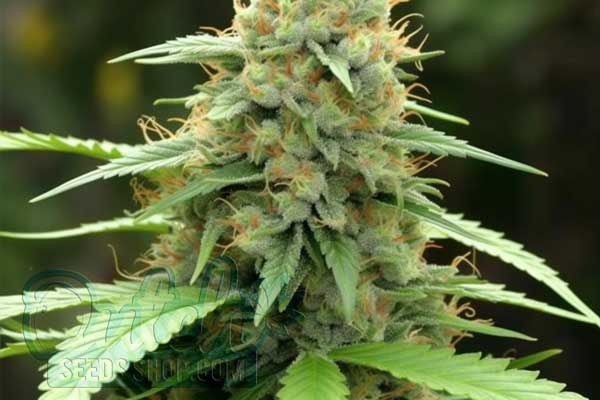 The flowering period for White Russian buds is a matter of precision and patience, typically ranging from 60 to 65 days.
This moderate blooming time allows cultivators to plan and schedule their cultivation practices effectively.
Indoor and greenhouse cultivation usually aligns well with this flowering schedule, as environmental factors can be easily controlled.
However, if the climate is favorable, outdoor cultivation can also produce excellent results.
Attention to details such as light exposure, soil quality, and nutrient balance, is critical to achieving a successful and timely harvest.
Cultivators should be mindful of the strain's growth stages, ensuring a smooth transition from the vegetative stage to blooming.
White Russian's predictable blooming time and stable genetics make it an attractive choice for cultivators of all skill levels.
Whether grown indoors or outdoors, this weed rewards patience and care with high yields of potent buds rich in flavor and aroma.
Buy Cannabis Seeds for Sale Online
Don't miss out on the opportunity to cultivate White Russian feminized seeds with high germinating rates from Dutch Seeds Shop.
With high quality seeds online with germination guarantee at its core and a variety to suit all tastes, the experience of cultivating these best cannabis seeds promises to be as rewarding as the product itself.
Free Shipping Worldwide - Including the USA
Dutch Seeds Shop seed bank brings the best weed seeds to your doorstep with free shipping worldwide, including in the USA.
The convenience gets even sweeter with our fast delivery option ranging from 2 to 5 days.
And don't forget, Dutch Seeds Shop offers free seeds on orders over $100, adding more value to your purchase.
So what are you waiting for? Buy the best White Russian seeds for sale today!
Similar Marijuana Seeds
With its balanced blend of effects and flavors, the White Russian strain has captured the hearts of cultivators and users alike.
But what if you're looking for a bit of variety or want to explore different types of cannabis strains with similar characteristics?
Let's compare White Russian with four other, looking at their plants yield, blooming time, growing difficulty, and indica and sativa ratio.
Black Russian: A cousin to White Russian, Black Russian also is typically indica strain but with a slightly more pronounced fruity taste. Its yield is comparable, though it may require a bit more attention in the growing stage, making it somewhat more challenging for novice cultivators. Blooming time is quite similar, ranging around 60 to 65 days.
Blue Dream: This hybrid stands as a contrast to White Russian, leaning more towards sativa-dominant side. Blue Dream offers a sweet and relaxing experience, with a blooming time that's typically a bit longer, around 70 days. Its yield is abundant, especially outdoors, making it a good alternative for those looking for both experience and harvest quantity.
Sour Diesel: Known for its energizing and potent effects, Sour Diesel provides a different take on the mental experience found in White Russian. It's flowering can stretch up to 75 days. Though it might require more patience, its yield is rewarding and offers a unique combination of citrus and diesel flavors.
Jack Herer: Named after the weed activist, this strain provides a captivating blend of mental elevation and physical relaxation. Its average flowering time falls in the same 60 to 65 days range. Jack Herer's yield is comparable, but its taste brings more earthy and pine notes, providing a different taste experience for users seeking variation.
FAQ
Is White Russian a sativa or indica?
White Russian is a hybrid with a balanced composition and White Widow and AK-47 as parents.
How much does a White Russian yield?
White Russian offers an indoor yield ranging from 1.1 to 1.5 oz/ft² and an outdoor yield ranging from 15 to 17 oz per plant.
How tall does White Russian grow?
White Russian reaches a medium height, typically growing between 3 and 4 feet tall.