Strawberry Banana Feminized Seeds Information
Ah, Strawberry Banana seeds, the fruit fusion that's all the buzz among cultivators and consumers alike!
This indulgent strain, with Banana Kush weed seeds and Bubble Gum as parents, has become synonymous with relaxation, creativity, and ease of growth, making it an irresistible choice for newbies and seasoned gardeners.
Looking for a tropical escape or a productive day? This indica-dominant strain may be your perfect partner.
Diving into the pool of this strain, one can almost taste the tropical beaches.
It's not just a name; it's an experience!
Now's the chance to explore what makes this feminized strain so unique and exciting.
Strawberry Banana Strain Origin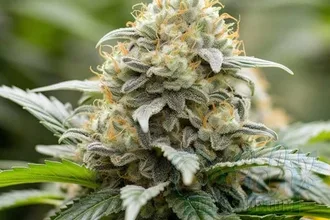 These exotic plant is a cross between Banana Kush and Bubble Gum seeds, two strains renowned for their unique flavors and effects.
Crafted by DNA Genetics in collaboration with Serious Seeds, this strain has quickly become a favorite for its sweet, fruity taste and potent effects.
The magical blend of 70% indica and 30% sativa gives it a delightful balance that can send you on a relaxing yet energetic high.
With flavors reminiscent of a tropical paradise, it's easy to see why this is highly sought after by cannabis enthusiasts.
Strawberry Banana Weed Effects
Imagine a wave of creativity, euphoria, and energy washing over you, followed by a soothing relaxation.
Whether you want to spark your imagination or unwind after a long day, this strain has you covered.
The calming effects of Strawberry Banana strain also offer relief from stress, insomnia, ADHD, chronic pain, depression, and anxiety.
However, a word to the wise - it may cause dry eyes and mouth.
So, keep those water bottles handy and ride the creative, euphoria wave that this strain offers.
THC and CBD
With high THC levels ranging from 22% to 26%, this is not for the faint-hearted!
Depending on your mood and needs, it packs a punch that can uplift and inspire or soothe and relax.
The CBD levels, being below 1%, take a backseat but still play a vital role in enhancing the strain's therapeutic properties.
The high THC content makes it a potent choice for those seeking a powerful high, while CBD adds to its calming and anti-inflammatory effects.
Whether you're searching for inspiration or relaxation, it's THC and CBD profile offers a well-rounded experience.
Aroma and Flavor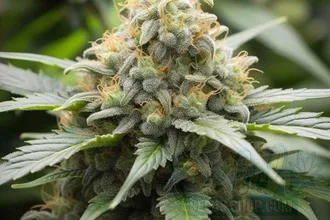 The aroma and flavor are where this strain truly shines.
The first whiff is a tantalizing blend of sweet strawberry, earthy tropical notes, and, of course, the unmistakable hint of banana. It's an olfactory delight that invites you to savor every puff.
Tasting this Indica hybrid is a luxurious experience.
The berry aroma melds with tropical banana bubblegum flavor, leaving an earthy undertone that lingers on your palate.
The dominant terpenes like Limonene, Myrcene, and Caryophyllene contribute to this delectable "strawnana" flavor and fragrance profile.
It's more than just a taste; it's an indulgence.
Growing Strawberry Banana Plants
When it comes to growing Strawberry Banana marijuana seeds, it's like having a green thumb with an exotic twist.
The beauty of these seeds lies in their adaptability and ease of growth.
Whether indoors or outdoors, novice or expert, these plants offer a rewarding gardening experience.
If the sweet aroma and delightful effects weren't enough, feminized Strawberry Banana's growing characteristics will surely win you over.
With medium height, easy growth difficulty, and preferred mild climate, these plants are as accommodating as they are beautiful.
Let's delve into the specifics of growing this remarkable weed.
Preferred Climate
It prefers warm Mediterranean conditions with good air circulation.
If you're growing outdoors, think sun-kissed locales with a gentle breeze.
However, indoor cultivators fear not! You can achieve the same success with a controlled environment mimicking these conditions.
Humidity is critical here, and shock treatment may be used to bring out a purple color in the leaves.
A climate that's not too harsh, not too soft, but just right - that's what Strawnana loves.
It's an easy-going plant that rewards you with stunning beauty, high resin production and robust flavors.
Indoor and Outdoor Yield
This is a generous plant, whether inside by the windowsill or outside in the garden.
When growing indoors, you can expect yields range from 1.3 to 1.6 oz/ft², while outdoor cultivators can expect a bountiful harvest of 21 to 25 oz per plant.
With such impressive numbers, it's a grower's delight!
What's the secret? Well, the ease of growth, medium height, and preferred mild climate all contribute to the generous yield.
It's a plant that loves to give, and with the proper care, it showers you with an abundant crop of fragrant, potent buds.
Flowering Time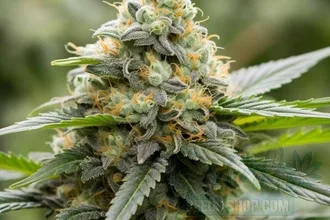 The flowering time of the Strawberry Banana feminized marijuana seeds is as pleasing as its taste and aroma.
With flowering period from 56 to 63 days, it offers a relatively quick turnaround.
Whether you're an impatient cultivator or planning multiple harvests, these buds fits the bill.
Factors such as growing techniques and environmental conditions can influence the flowering phase and buds, but generally, it's a swift and satisfying process.
So, whether it's your first time growing or your hundredth, it ensures a fruitful and timely harvest indoors and outdoors.
Buy Cannabis Seeds for Sale Online
Why wander in search of quality when Dutch Seeds Shop brings the best cannabis seeds online right to your doorstep?
Known for its unparalleled quality and diverse range, DSS is the go-to destination for every cultivator looking to buy strawberry banana seeds.
The experience of buying from Dutch Seeds Shop is smooth and satisfying, just like the strains we offer.
With cannabis seeds for sale, it's time to invite this tropical treat into your garden and savor the flavors that have captured the hearts of cannabis enthusiasts worldwide.
Free Shipping Worldwide - Including the USA
What's better than buying your favorite seeds? Getting them shipped for free, of course!
We at Dutch Seeds Shop seed bank offer free shipping worldwide, including to the USA.
And if you're eager to get started, fret not; We also have fast delivery from 2 to 5 days.
Did we mention free seeds on all orders over $100?
It's all here at DSS, making your shopping experience as delightful as the strains themselves.
Similar Marijuana Seeds
Exploring the world of cannabis strains is like venturing into a garden of diverse flavors, aromas, and effects.
If the Strawberry Banana cannabis strain has caught your attention, you'll be delighted to discover other marijuana seeds that share some characteristics with this fruity cannabis wonder.
From the sweet allure of berry flavors to the nuanced notes of different terpenes, the following alternatives offer unique twists on some of the qualities that make this marijuana strain so beloved.
Dive in, and let's explore how these alternatives stack up against Strawnana:
Strawberry Fields: Strawberry Fields offers a sweeter and more berry-like aroma but shares fruit essence. While both have a relatively easy growing difficulty, Strawberry Fields has a slightly shorter blooming time, making it a quicker option for some growers.
Strawberry Cough: Strawberry Cough weed seeds are renowned for strong strawberry scent, even more pronounced than Strawberry Banana. The THC content is slightly lower in Strawberry Cough, making it suitable for those who prefer a milder experience. The growing process is similar, but yields might differ slightly, with Strawberry Cough generally offering less per plant.
Critical Strawberry Banana: This genetic relative has many similarities, such as flavor profile and terpene structure. The Critical version, however, is known to have a slightly higher THC level and can offer a more intense euphoric effect and notes of banana. The growth difficulty is parallel, making it an excellent alternative for fans of the original.
Super Lemon Haze: Unlike the smooth and intense banana flavor, Super Lemon Haze weed seeds bring a zesty lemon punch. While it offers a different taste experience, the energetic and euphoric effects are comparable. Growing Super Lemon Haze might require a bit more attention, particularly regarding humidity levels, but the rewards in flavor diversity make it worth the effort.
Sour Strawberry: Sour Strawberry brings a tart twist to the berry fruity flavor, providing a contrasting experience to sweet profile. Both are indica dominant and share some therapeutic benefits, like stress and pain relief. The growth difficulty is similar, but Sour Strawberry might demand a bit more care regarding nutrient needs.
Strawberry Diesel: Strawberry Diesel weed seeds combine the strawberry notes with a robust diesel undertone. It shares relaxing and energizing effects but might lead to a more energizing experience due to its unique flavor mix. While the blooming time is comparable, Strawberry Diesel's outdoor yield tends to be slightly higher, making it an intriguing option for outdoor cultivators.
FAQ
Is Strawberry Banana strong?
Absolutely, with buds potency levels from 22% to 26%, it provides a strong euphoric experience.
How long does it take for Strawberry Banana seeds to grow?
Blooming time ranges from 56 to 63 days.
Is Strawberry Banana a hybrid?
Yes, it's a hybrid strain with 70% indica and 30% sativa.
Why is Strawberry Banana so popular?
Its unique combination of strawberry and banana flavors, and as it is easy to grow it make it highly sought by both growers and users.