Bruce Banner Feminized Seeds Information
Listen up, cannabis enthusiasts!
You've just hit the jackpot with feminized Bruce Banner seeds if you're craving a strain with supercharged potency and flavors that dance on your palate.
The clock's ticking, and you won't want to miss out on this green behemoth!
Bruce Banner Strain Origin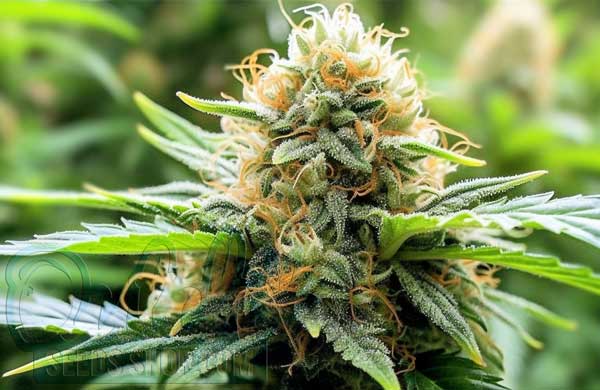 Wondering where this mighty green giant hails from?
It is a splendid offspring of OG Kush and Strawberry Diesel.
Imagine taking the potent, relaxing effects of OG Kush and pairing them with the fruity, uplifting spirit of Strawberry Diesel - you get a strain bursting with complexity and versatility!
Bred to perfection, this is a hybrid with a sativa dominant lean, featuring a 60% sativa to 40% indica ratio.
This strain offers more than just a balanced high; it's a harmonious blend of flavors, effects, and benefits, especially if you're grappling with mental health issues like stress and depression.
It's like having a therapist and a fun-loving friend rolled into one incredible strain!
It even managed to take home an award at the High Times Cannabis Cup for the strongest cultivar in the world.
Bruce Banner Weed Effects
Feeling like you're in a rut? Need a dose of relaxation and cerebral stimulation?
Look no further! Effects of Bruce Banner hit strong, quick, and unforgettable like its namesake.
With high THC content, this is not a strain for the faint-hearted.
But don't worry, it's not all just brute strength; it brings a balanced ensemble of effects to the table.
Right off the bat, you'll feel an cerebral rush that wipes away any stress or depressive thoughts.
As the high settles, the indica component kicks in, washing over you with a warm wave of relaxation.
It's like a mental massage and a physical chill-out session all at once.
Users often report feeling relaxed and euphoric, making it an ideal pick-me-up for a bad day or a social lubricant for gatherings.
For medical cannabis users, it offers relief for various conditions, from PTSD to pain management.
But a word of caution: it can lead to dry eyes and mouth.
So, whether you're a fan of strong weed or seeking medicinal relief, this is your go-to for a balanced high that covers all the bases.
THC and CBD
Step aside, lightweight strains - Hulk is in town with THC levels that can go through the roof, reaching a sky-high 24%!
But hey, it's not just about the THC; this strain has a cannabidiol content hovering around 1%.
Sure, it's not the cannabidiol heavyweight champion, but it's enough to offer a softening edge to the intense THC high.
In fact, the moderate cannabidiol content ensures that the effects are well-balanced, bringing down anxiety levels and complementing the THC's potent mood-enhancing and pain-relieving properties.
Trust us that 1% CBD can make a difference, especially for those grappling with anxiety or a tendency toward paranoia when consuming high-THC strains.
In terms of cannabinoid balance, Bruce Banner offers a hard-hitting yet well-rounded experience, making it a favorite for recreational and medicinal users.
Aroma and Flavor
Buckle up, flavor chasers! Bruce Banner is an aromatic joyride that you'll want to revisit repeatedly.
Picture this: You break open a bud, and a burst of diesel mixed with sweet berries wafts through the air.
Yes, the olfactory symphony is composed of both fruity and earthy notes, thanks to its heritage.
Upon inhale, the earthy undertones flirt with your taste buds while a tangy, berry-like flavor makes a grand entrance on the exhale.
This delightful blend of flavors can be attributed to the strain's rich terpene profile, featuring limonene and myrcene, among others.
So, whether you're vaping or smoking, you're in for an immersive sensory experience that pairs perfectly with Bruce Banner's array of effects.
Ideal for a foodie who's also a canna-enthusiast!
Growing Bruce Banner Plants
Bruce Banner is not just a treat for the consumers; it's a joy to cultivate, too!
Beginner-friendly? Check.
High yields? Double-check.
This feminized strain is like the Swiss Army knife of cannabis plants.
One of the most striking features of these feminized plants is their robustness and resistance to common pests and diseases.
That makes them an excellent pick for those who are just starting their green journey, as well as for experienced cultivators looking for low-maintenance yet rewarding growth.
Preferred Climate
If you're considering planting Bruce Banner seeds in your garden or even in your basement grow room, it's crucial to know that it is like the surfer dude of the cannabis world.
It thrives in a warm, sunny, Mediterranean-type climate.
However, don't fret if you don't live in sunny California or the Italian Riviera! Bruce Banner is also quite tolerant of slight variations in temperature and humidity.
But remember, 'slight' is the keyword here.
Keep the climate too cold or too humid, and you might not get the robust growth and high yields that Bruce Banner is famous for.
For outdoor grows, think about applying mulch to regulate soil temperature, and maybe consider a greenhouse setup for those in cooler climates.
On the flip side, if you're growing indoors, maintaining a temperature range of 68 to 80 degrees Fahrenheit will make your plants feel right at home.
Indoor and Outdoor Yield
Bruce Banner marijuana seeds are like the gift that keeps on giving. Indoors or outdoors, this plant is renowned for its hulking yields.
Starting with the indoor setup, you can expect a whopping 1.5 to 1.6 oz/ft² with the proper nutrients and lighting conditions.
That's quite a lot, making it a go-to choice for commercial growers and anyone looking to maximize their return on investment.
Now, let's talk about outdoor cultivation.
When given the room to stretch and flourish outdoors, it can yield 18 to 21 oz per plant.
Yep, you heard that right - 21 ounces!
So, whether you're looking to make the most of a compact indoor space or letting your plants roam free under the natural sun, Bruce Banner is a harvest superstar that won't disappoint.
Flowering Time
Let's face it, patience is a virtue that not all of us possess. The good news?
It won't test your patience too much.
It's a moderately quick finisher with a flowering time that ranges between 60 to 65 days.
That means you don't have to wait forever to enjoy harvest of those delectable, trichome laden bright green buds.
If you decide to grow outdoors, you can expect the flowering to wrap up around late September to early October, which is perfect for those looking for harvest time before the winter chill sets in.
For those who opt for indoor cultivation, using a 12/12 light cycle during the flowering stage can stimulate the plants to flower quicker and could potentially improve nugs density.
Buy Cannabis Seeds for Sale Online
So you've decided to grow your own cannabis garden? Excellent choice!
And where better to start your journey than at Dutch Seeds Shop, the ultimate online cannabis seed bank?
Buy Bruce Banner feminized seeds for sale today at DSS!
We offer an unparalleled selection of top-quality seeds online with high germination rates to suit all skill levels.
For the uninitiated, navigating the world of feminized cannabis seeds can feel like walking through a labyrinth.
But fret not! Dutch Seeds Shop is here to make your life easier.
We provide detailed descriptions, germinating and grow tips, and strain-specific insights so you can make informed decisions.
Our seeds are sourced from reputable growers, ensuring that you're setting yourself up for success right from the start of germination.
Free Shipping Worldwide - Including the USA
Here comes the cherry on top: Dutch Seeds Shop offers free shipping worldwide.
Yeah, we don't mess around. This is not some limited-time offer; it's a standard feature.
Whether you reside in the hustle and bustle of the USA or find yourself in a secluded European countryside, Dutch Seeds Shop has got you covered.
We also offer fast delivery option ranging from 2 to 5 days.
Plus, get this, orders over $100 come with free seeds!
Similar Marijuana Seeds
If Bruce Banner cannabis seeds have piqued your interest, you're in for a real treat!
The cannabis world is abundant with strains that offer comparable experiences, from potency and aroma to grow difficulty.
Whether you're a seasoned cultivator or just starting out, or expanding your grow room, it can be both rewarding and enlightening.
Below, we'll dive into how these comparable weed strains stack up against the incredible Hulk.
Bruce Banner Autoflower: A no-fuss version of the legend, BB Autoflower has an easier cultivation journey that's quicker to harvest. Unlike feminized Bruce's moderate difficulty level, this autoflowering variant is beginner-friendly and easy to grow. But don't let the ease of growth fool you; the potency remains impressive, though not quite matching up to feminized BB's.
Bruce Banger: This weed is known for igniting conversation and creativity, and leaving you feeling euphoria. While BB's ratio is 40% indica and 60% sativa ratio, Bruce Banger leans more towards sativa-dominance.
Baby Banner: Think of Baby Banner as the Banner family's lighter, more mellow sibling. If you're new to the cannabis game and looking to dip your toes in without diving into the deep end, Baby Banner is your go-to.
Sour Diesel: Sour Diesel is a sativa dominant strain that offers an energizing high similar to Bruce's. It also has a moderate grow difficulty, but the flowering takes a bit longer, averaging around 77 days. Though not as balanced as BB, it's a perfect choice if you're looking for that cerebral uplift without too much body lock.
Super Lemon Haze: Another sativa-dominant gem that excels in its energetic effects. Unlike Bruce, which boasts mix of sweet and sour tones, Super Lemon Haze offers a zesty citrus scent. It's more challenging to grow but absolutely worth the effort if you're a fan of mood-boosting strains.
Purple Haze: This one's an old-school classic with sativa dominant genetics. Unlike Bruce's balanced effects, Purple Haze leans heavily into the cerebral. Its ridiculously high THC hover around 20%, offering a slightly less intense but equally enjoyable experience.
Acapulco Gold: A landrace strain that offers a similar balanced experience. Unlike Bruce's modern, engineered genetics, Acapulco Gold hails from the sandy beaches of Mexico. Its moderate grow difficulty and lower levels of THC (around 15-24%) make it a good choice for those seeking an authentic, classic cannabis experience.
FAQ
What are Bruce Banner seeds?
These fem seeds are the genetics offspring of OG Kush and Strawberry Diesel, known for potency, large yields, and a balanced set of effects.
How much does a Bruce Banner strain seeds yield?
Indoor yields range from 1.5 to 1.6 oz/ft², while outdoor yields can go up to 18 to 21 ounces per plant.